Decision Support
Real time model guidance for hurricane storm surge
In the aftermath of hurricane Katrina in 2005, the need for reliable high resolution flood modeling for hurricane inundation became apparent. In response, we developed the ADCIRC Surge Guidance System (ASGS) to provide decision support for officials tasked with operating critical infrastructure.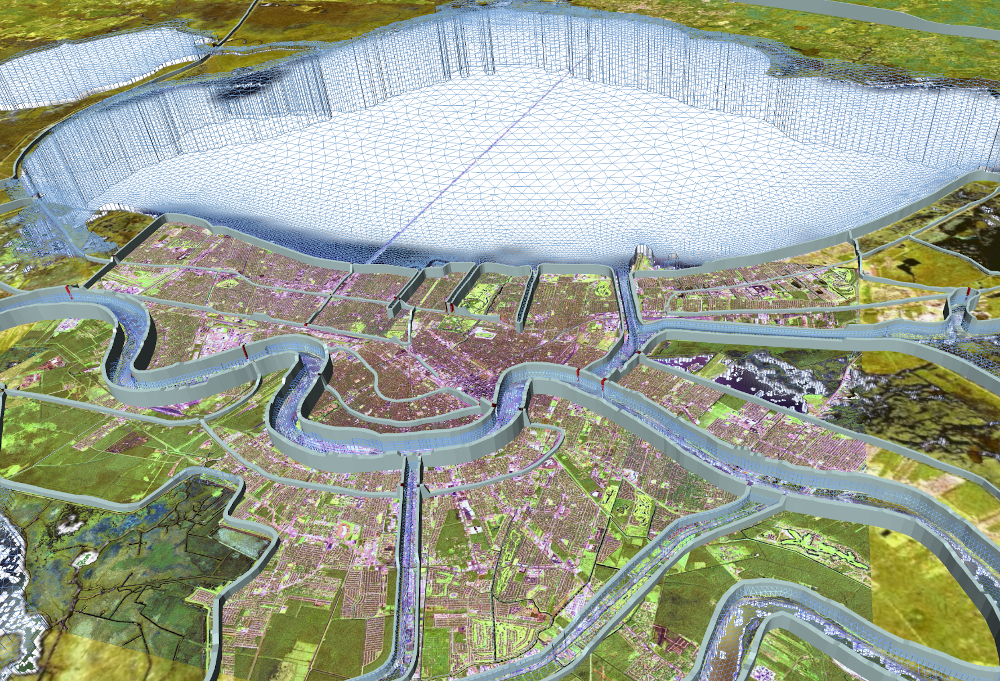 During a storm, we run our modeling system on a fleet of supercomputers to produce actionable guidance for the severity, timing and location of storm surge inundation. We also produce results for wind speed, wind direction, and wave action. We share these results in cooperation with collaborators including CERA.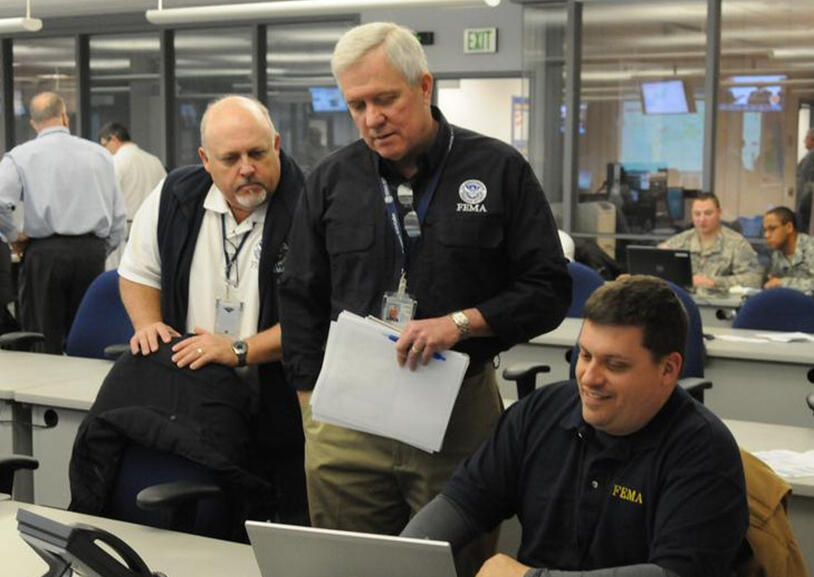 As hurricanes form and approach the US coastline, we use forecast advisories from the National Hurricane Center to update our guidance every six hours for use by official decision makers including the Louisiana Coastal Protection and Restoration Authority, FEMA, the US Coast Guard, engineering firms, insurance underwriters and adjusters, and many others.
ADCIRC Surge Guidance System
Our software automation framework for the ADCIRC coastal ocean model includes hands off construction of all input files, meteorological forcing, tidal boundary conditions, and Operator scenario package specifiations.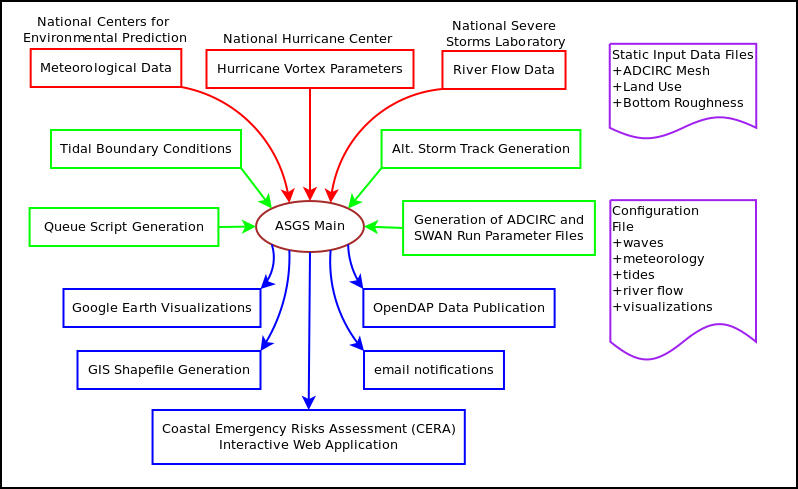 Flexible and Powerful
Our design criteria for the ASGS is that it must be fast, reliable, and maintainable. It is portable and runs on supercomputers all over the US. Our deployment partners use its pluggable post processing framework to disseminate a variety of analysis products.
Scenario Based Guidance
Stormsurge.live Operators have fine grained control over the types of scenarios to compute: track variations, maximum wind speed, storm size, and forward speed are all available to address those "what-if" questions.
Partnerships
Teamwork and partnerships are key for us to provide the level of service and reliability our decision makers require when a stom is bearing down. We are proud to work with the Coastal Emergency Risks Assessment (CERA) team at LSU as well as the Texas Advanced Computing Center (TACC) at the Univeristy of Texas at Austin.
CERA
CERA is widely used by key decision makers at the highest levels in the US and around the world for situational awareness and high level political briefings. It is also used by Federal agencies including military professionals in live operations to drill down into the details of the latest data to plan routes and position assets.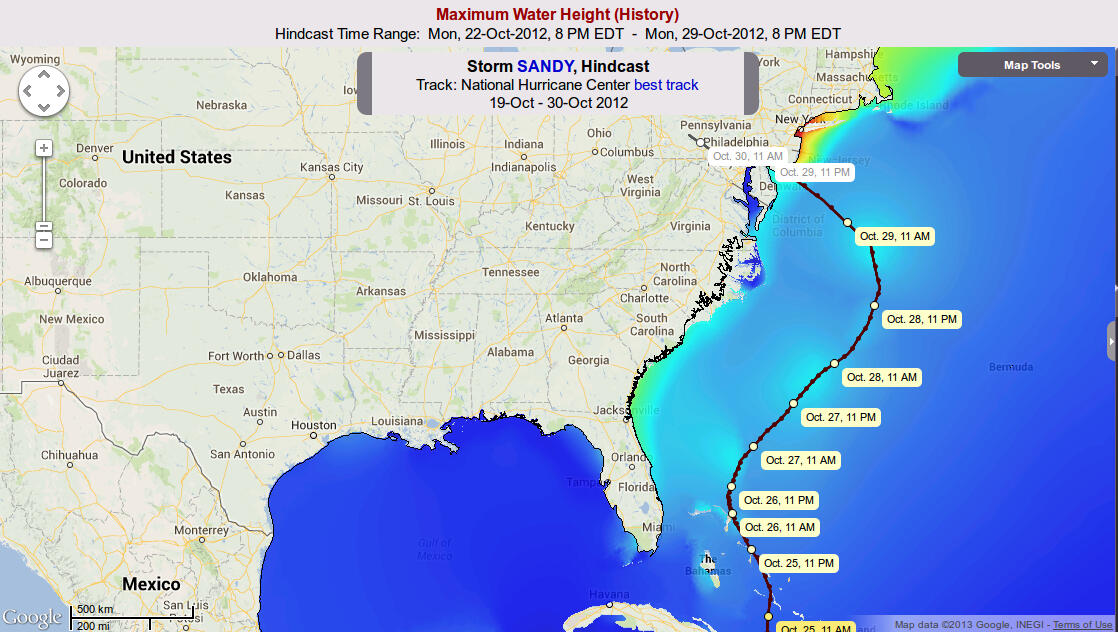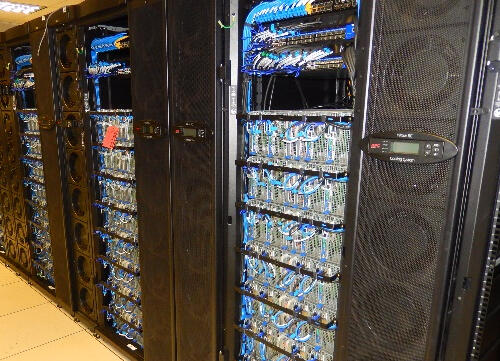 Texas Advanced Computing Center
TACC is the home of some of the largest and most advanced supercomputers in the US (it is Texas after all) and they have a commitment to public service to match their size. Our cooperation with TACC is transformative in the speed and scope of the guidance we can provide, allowing us to have impact on a National scale.
Tools
After fifteen years of developing our automated coastal modeling platform for real time model guidance, we have embarked on a new challenge. We're taking the best parts of our infrastructure and deploying them as single page web applications with supportive training to empower our clients and stakeholders in their own engineering projects.
ADCIRC Visualization
Our first standalone application is a tool to enable 3D visualization of ADCIRC results with freely available desktop software. We're actively looking for a limited number of early adopters to take a free beta test of our training course, try the new app, and provide feedback. Please fill in the contact form below if you'd like to try it!
Contact Us for a Free Consultation
We work with government agencies, engineering consulting firms, insuretech professionals, and academic researchers. We'd love to hear more about your challenges and how we can help!